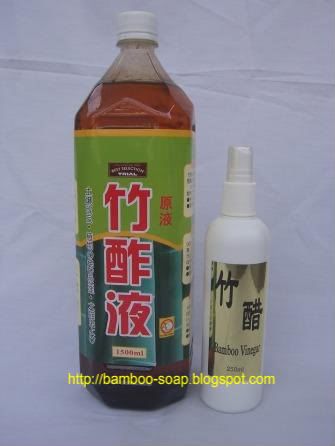 什么是竹醋液?
竹醋液是竹子在无氧高温的炭化过程中,竹子组织中的水气蒸发变成蒸气----竹烟,竹烟升至窯顶,藉由集烟设备收集到的冷卻竹烟就是竹醋原液。

竹醋原液再经过数次蒸馏作用,去除有害的焦油层,就是具杀菌、除臭、软化肌肤、预防蚊虫等等的竹醋液。
竹醋液运用
美容SPA (浴缸)


取20-50ml的竹醋液放入充满水的浴缸里,然后拌匀。 竹醋液里面的自然矿物质能帮助改善皮肤状况和血液循环。 加入竹炭能发挥得更好。在浴以后的 水可以用来洗衣裳。

护发
弄湿头发,取5ml的竹醋液放入10ml的水稀释,于按摩方式轻柔的涂在头皮,然后过水,用洗发精清洗一次就可。能有效的帮助血液循环,止痒、去除头皮屑、防止脱发和除发臭。有助头发再生。

浸脚
取20ml竹醋液放入1 litre的温水稀释,拌匀,然后浸脚30分钟。 能有效的杀菌和除臭,特别是对脚汗和香港脚者有很大的帮助。

抹布、桌布清洗
取15ml竹醋液放入1 litre的水稀释。 放进抹布、桌布浸过夜。 这能很有效的杀菌、除臭和抑制细菌生长。

垃圾桶除臭
取10ml的竹醋液放入50ml的水稀释,装进喷洒瓶里面,在垃圾桶周围喷洒,能除臭、杀菌。

皮肤病
有皮肤病者,可以直接或取10ml的竹醋液放入50ml的过滤水稀释,搽在症状之处。对痘痘、发痒发炎、汗斑、雀斑、黑斑、老人斑、癣、牛皮癣、脱皮、香港脚、脚烂等有很大的帮助。

漱口
除口臭、杀菌。 取3ml竹醋液放入10ml水稀释,用来漱口,不可吞食。

美容洗脸
取2cc的竹醋液加入10cc的洗脸霜、卸妆乳、卸妆油,用来卸妆洗脸。可以很有效的去除死皮及角质层,于帮助吸收保养品。

宠物
取10ml的竹醋液放入100ml的水稀释。把布浸人已稀释的竹醋液水,用来洗搽宠物的笼子或住处。能有效的除臭、杀菌、驱跳蚤。

盆栽驱虫
取20ml竹醋液放入1 litre 的水稀释,喷洒在盆栽可发挥驱虫功效,而且没有药害疑虑。另外植物上如果有害虫,亦可以用来喷洒驱虫。

驱蚊虫
于40%竹醋液放入60%的水稀释,喷洒在手臂和脚上,能有效的驱走蚊子,也可以止痒。还可以喷洒在蟑螂出没的地方。

杀菌
取30%的竹醋液放入70%的水稀释,装进喷洒器里面,用来喷洒在鞋子、厨房、洗手间。

砧板杀菌

–取20ml的竹醋液放入1 litre的水稀释,放人砧板浸一下,用清水清洗就可。
衣物杀菌

–取15ml竹醋液放入1 litre的水稀释,把衣服浸一下再洗。

软化肌肤
取20ml的竹醋液放入100ml的水稀释,搽在皮肤硬厚的地方,能有效的软化肌肤。

沐浴、洗发
取20cc的竹醋液放入10cc的沐浴乳或洗发精,用来洗澡和洗发。

脸部SPA
取20ml的竹醋液放入500ml的温水稀释,用来清洗脸部大概1-2分钟,然后用水再清洗干净。加入竹炭能增加去角质层效果。

*用竹醋液之前,请做皮肤测试
注:
运用竹醋液在天然护肤品如竹炭皂、竹醋皂、竹盐、洗发精能更有效的发挥其功能。详情请联络我们的顾问:
Allan Goh
012-4232615
(联络时间: 2pm-8pm)
★

提供网购或电话订购
★

寻找地区代理
★

招聘员工
**************************************
Bamboo Vinegar Benefits and Applications
Body Beauty Spa (Bath Tub)
Put about 20-50ml of bamboo vinegar inside bathtub filled with water and mix it well. The natural minerals inside the bamboo vinegar will help improve skin condition and blood circulation. Adding bamboo charcoal will enchance the effect. Water can be
use for washing clothes after bath.
Hair Care
Before rinse and shampoo, put 5ml of bamboo vinegar into 10ml of water. Apply to hair with massaging till reach scalp. Rinse and use shampoo to wash hair well. It will improve blood
circulation, remove itchiness, dandruff, hair loss and smell of hair. Best of all, possibility of hair growth.
Foot Bath
Put warm water into the bucket to cover to neck of the foot. Put 20ml of bamboo vinegar into about 1litre of warm water and mix it well. Put your feet into the bucket and soak for 30 minutes. This will help to remove bacteria and smell from the foot. Best for sweaty foot and foot diseases.
Dish Towel/Table Cloth
Put 15ml of bamboo vinegar into 1 litre of water. Put dish towel/table cloth into the water and leave it for overnight. It will disinfect and remove smell from the towel/cloth.
Remove Smell of Trash
Bamboo vinegar can remove smell from trash/rubbish. Dilute 10ml of bamboo vinegar with 50ml of water and fill the mixture into an empty spray bottle. Spray into the trash or trash area that has raw food or smelly stuff.
Problematic Skin Or Skin Diseases
Problematic or disease skin,direct application or mixture of filtered water. Mixture ratio of water and bamboo vinegar 10ml to 50ml or depending on severity. Best for pimples, acne, tinea versicolor, dermatitis, psoriasis or eczema.
Mouth Wash
Removing bad mouth odor and kill mouth germs. Add 3ml of Bamboo Vinegar to 10ml of water. Goggle. Do not swallow.
Facial Cleanser
Bamboo Vinegar can take out dead cell and help better penetration for other cosmetics products. Add 2cc to 10cc of cleansing gel/milk/oil before cleansing.
Pets
Add 10ml bamboo vinegar to 100ml of water. Soak the cloth inside this mixture and use it for cleaning the pet house/cage. It will remove smell and insects, thus keeping pets healthy and hygienic. Best for removing fleas from pets/hair.
Gardening/Flowers/Plants
Add bamboo vinegar 20ml of bamboo vinegar to 1 litre of water. Pour into the soil to improve the soil properties, remove bacteria and insects. Alternatively, bamboo vinegar can be sprayed directly to fresh flowers and plants. Both methods will help the plants and flowers to grow nicer and live longer.
Insect Repellent
Fill an empty spray bottle with 40% bamboo vinegar and dilute with 60% of water. Just spray to your hands and legs and it will help to disinfect and stop itchiness. Also, you can spray to areas near you to prevent flies, cockroach and mosquitoes from coming.
Disinfecting Agent
Put 30% bamboo vinegar to 70% water inside empty spray bottle. The spray can be used in shoes, kitchen, bathroom etc to remove odour and for disinfection purposes.
For chopping board

- Put 20ml of bamboo vinegar into 1 litre of water and soak sponge into the mixture. Wipe the chopping board with the sponge. Rinse with water.


For clothes

- Put 15ml to 1 litre of water to soak before washing. Bamboo vinegar has more power to disinfect than any other vinegar.
Natural Skin Conditioner
Application onto skin will soften hardened skin. Mixture ratio of water and bamboo vingar 20ml to 100ml or depending on severity.
Bathing With Shampoo or Soap
Add 2cc of Bamboo Vinegar to 10cc of body shampoo or soap while bathing.
Facial Spa
Dilute warm water(500ml) with bamboo vinegar(20ml), splash face for 1 or 2 minutes. Then rinse with clean water. Adding bamboo charcoal will enchance the effect of skin exfoliation.
★
Please take patch test before you use bamboo vinegar.
Note:
Application of Bamboo Vinegar Liquid work best with Natural Skin Care products such as Bamboo Charcoal Soap,Bamboo VinegarSoap, Bamboo Salt, Shampoo. Please consult our Products Advisor for further details.
Person In Charge :

Allan Goh
012-4232615
(Enquiry Time: 2pm to 8pm please)
★
Order Online or Phone Order
★
Location Distributor Wanted
★
Vacancy Available for Part/Full Time